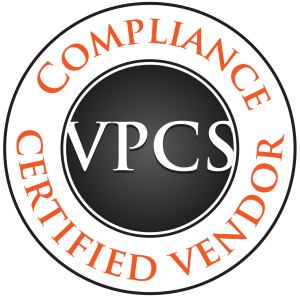 VP Compliance Services Vendor Certification program is an extensive review and audit of lead gen vendors. A VPCS Certified Vendor is a vendor a lender can trust when looking to purchase leads.
VP Compliance Services is pleased to announce EPCVIP has passed required elements of our Lead Gen Compliance Certification Program.
The Lead Gen Compliance Certification Review examined the following areas (listed below) and found EPCVIP to be operating a compliant organization as of the date of the review and passed our background review.
Please consider EPCVIP for any future lead gen services.
For any questions regarding our Vendor Certification Program please contact Rick Wittwer at (877) 350-9933 X5 or wrw@vpcs.biz. The elements of the certification review EPCVIP passed are listed below:
VPCS Lead Gen Certification
Description
Comments
Date Certified
Date vendor passed the certification audit
Re-audited yearly
Certifications & Accreditations
Description
Comments
Online Lenders Accreditation
Detailed examination of lenders policies and procedures
Current
Liens, Actions, Fines, Investigations
Description
Comments
Company Background Check
Background check of company and associated companies
Passed
Principal Owners Background Check
Background check of principals
Passed
Required Licenses
Description
Comments
Corporate Registration
Review of state and federal corporate registrations
Current
State Registrations & Bonds
Review of state registrations and bonds
Complete and current
Collections License Review
All required licences reviewed
Complete and current
Agreement Review - Client
Description
Comments
Vendor
Examined for required elements of agreements
Passed
Policy and Procedure Review
Description
Comments
Identity Authentication
Policy Exists
Procedure(s) Exists
Passed
GLBA
Policy Exists
Procedure(s) Exists
Passed
Privacy
Policy Exists
Procedure(s) Exists
Passed
Record Retention
Policy Exists
Procedure(s) Exists
Passed
SCRA / MLA
Policy Exists
Procedure(s) Exists
Passed
UDAAP
Policy Exists
Procedure(s) Exists
Passed
Vendor Management
Policy Exists
Procedure(s) Exists
Passed
TCPA
Policy Exists
Procedure(s) Exists
Passed
Information Security (GLBA)
Description
Comments
PCI Scan
Performed on all IP addresses
Passed
Written Security Program
Program Policy Exists

Passed
Information Encryption used when transferring data
Program Policy Exists
Passed
Network Monitoring
Vendor in place
Passed
Firewalls installed
Reviewed firewall technology and vendor
Passed
Default passwords and Security Parameters updated
Policy Exists
Procedure(s) Exists
Passed
Protection against system attacks
Technology exists

Adequate practice of testing
Restricted access to Sensitive Information
Policy Exists
Procedure(s) Exists
Passed
Secure development of system and applications
Policy Exists

Passed
Audits
Reviewed audit schedule and results
Passed
Physical Security
Policy Exists
Reviewed audits - passed
Clean Desk Policy
Policy Exists
reviewed audit
Passed
Facility Access Monitoring
Policy Exists
reviewed audit and logs
Passed
Training
Description
Comments
FDCPA
Review of adequacy and frequency of training
Passed
TCPA
Review of adequacy and frequency of training
Passed
Vendor Review
Description
Comments
Ongoing Monitoring (reporting, audits, monitoring, reviews)
Reviewed audit frequency and findings
Passed
On Boarding (Questionnaire, Contract Review, Background checks, References)
Policy Exists
Reviewed audits and frequency
Passed
Vendor Agreement
Reviewed agreements of TPPPs and ODFIs
Passed
Compliance Management Program
Description
Comments
Oversight
Reviewed organizational structure, authority, and personnel
Passed
Monitoring
Reviewed monitoring programs for adequacy and frequency
Passed
Training
Reviewed training programs
Passed
Complaint Management
Reviewed program, system to manage, and inability to edit
Passed
Written Policies and Procedures
Policy Exists
Procedure(s) Exists
Passed
Public Internet Search
Description
Comments
Vendor Name/Keyword
Performed searches and examined all posts
Acceptable results
CFPB Complaint Database
Examined CFPB complaints, resolutions, and response timing
Passed